Welcome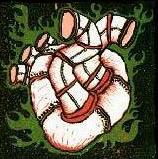 About Jeremy Mage
Mage is a grammy winning multi-instrumentalist, singer, songwriter, producer and composer. He tours globally, makes records, and composes music for film and television. He's also the Music Director for Sanctuary NYC, a center for consciousness and culture. This year he'll release
an album of his own groovy indie pop
. This year will also see the release of three records he co-wrote/co-produced;
a genre bending record with Afro Dance diva WUNMI
(Masters at Work, Bugs in the Attic) (recorded in Accra, Ghana) , an original soul EP with visionary James Hurt (Q-Tip, Meshell Ndegeocello), and
a record of moody, ambient songs with 23 year old chanteuse Kaia.
News Highlights:
-Jan 2013: J Mage played a lot of piano on an album that is currently nominated for a Grammy. Fingers crossed on the win.
-Update Feb 2013: Played piano on a record that Won a 2013 Grammy
-March 2013 produced/arranged a song licensed for upcoming Cuba Gooding Jr. movie
"Life of a King"
Email contact: music @ jeremymage dot com
Please subscribe to mailing list for occasional updates on concerts and recordings:
---